Uncategorized
'Grey's Anatomy': Are McWidow and Meredith Over? Richard Flood Reveals Why They Had to 'Move On'
There is still a question if Meredith Grey (Ellen Pompeo) will ever find love again on Grey's Anatomy. Season 18 started with the return of Dr. Nick Marsh (Scott Speedman). But we can't forget about Cormac Hayes (Richard Flood)! Flood revealed why his character has been pushed aside for now.
Cormac Hayes joined 'Grey's Anatomy' as a possible love interest for Meredith Grey
Cormac first appeared in season 16. The Irish pediatric surgeon used to work with Cristina Yang (Sandra Oh). She made sure he applied for a job at Grey-Sloan Memorial, and he got it.
The widower got the nickname "McWidow" because he lost his wife. He also has two teenage sons, Liam and Austin. Cormac asked out Meredith, and she accepted, but the coronavirus (COVID-19) pandemic started, and she got sick before anything could happen.
Season 18 showed Meredith splitting her time in Seattle and Minnesota because she took a job looking for a cure for Parkinson's disease. She also started dating Nick Marsh (Scott Speedman).
Meanwhile, Cormac took on Megan Hunt's son, Farouk (Bardia Seiri), as a patient this season. She sat in the operating room as he worked on him and was very encouraging. That leaves the question of where does that leave McWidow?
Are McWidow and Meredith over? Richard Flood reveals why they had to 'move on'
Before Meredith went into a coma, she had a spark with Cormac. In season 18, she has been focused on her new job and Nick. Flood explained this change to Entertainment Weekly.
"I think it's pretty clear that McWidow and Grey have a strong connection, a strong flirtation," Flood said. "I think last season was difficult, obviously, because she was in a coma. So it was impossible to explore the relationship any further except in his reaction to her being in a coma."
"And this season there's a lot of story to tell, so we had to move it on," he later added. "But these are adult relationships and they're complicated and timing is often very tricky, very difficult."
The actor made it clear that he could only say so much. But it also sounds like he's open to many possibilities for where his character could go.
Flood said Cristina probably helped fans accept him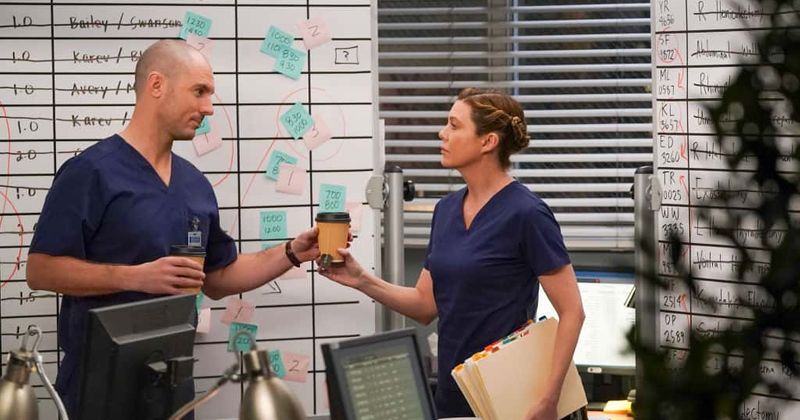 New characters on Grey's Anatomy can be a hit or a miss. Flood talked about how fans reacted to Cormac joining the show.
"Oh, the fans have been very kind to me," he said. "When you come into a show like this, you never really know how it's going to be or if the character that you're portraying is going to be of any interest to people. But I think the fact that he was sent by Cristina Yang was a big help in ingratiating the character with the Grey's fandom."
It's unclear if fans are rooting for Nick or Cormac when it comes to Meredith's love life. But if they keep watching, they'll find out if Cormac still has a chance.