Uncategorized
'Harry Potter' Star Emma Watson Calls Hermione Her 'Favorite Fictional Character of All Time'
Fans aren't the only ones celebrating 20 years of Harry Potter. In a heartfelt post, Emma Watson shared a beautiful message honoring the franchise, character, and co-stars. 
Emma Watson was 11-years-old when she starred in the first 'Harry Potter' movie
Watson has been in several film projects over the years. But her most famous role will always be playing Hermione in the Harry Potter movies. 
The now 30-year-old actor appeared in the first film, Harry Potter and the Philosopher's Stone, in 2001. She spent the next decade with the franchise alongside co-stars Daniel Radcliffe and Rupert Grint. And she appeared in all eight movies until the final installment was released in 2011. 
Emma Watson shares a heartfelt message for the 20th-anniversary of 'Harry Potter' 
In a recent Instagram post, Watson shared a throwback photo of her with Radcliffe and Grint. And in the caption, she celebrated being a part of the Harry Potter universe. 
"Harry Potter was my home, my family, my world, and Hermione (still is) my favorite fictional character of all time," Watson wrote. "I think a journalist once said it was irritating how many times during an interview I mentioned how lucky I was and started counting… BUT I DAMN WELL KNEW!!! And still know."
Watson also gave a shout-out to her co-stars. And while mentioning the relationships they've all maintained,  she revealed how supportive they've been to each other. 
"I am proud not just of what we as [a] group contributed as actors to the franchise but also as the children that became young adults that walked that path," she continued. "I look at my fellow cast members now, and I am just so proud of who everyone has become as people. I am proud we were kind to each other, that we supported one another and that we held up something meaningful."
She is excited for fans to watch the 'Harry Potter' reunion special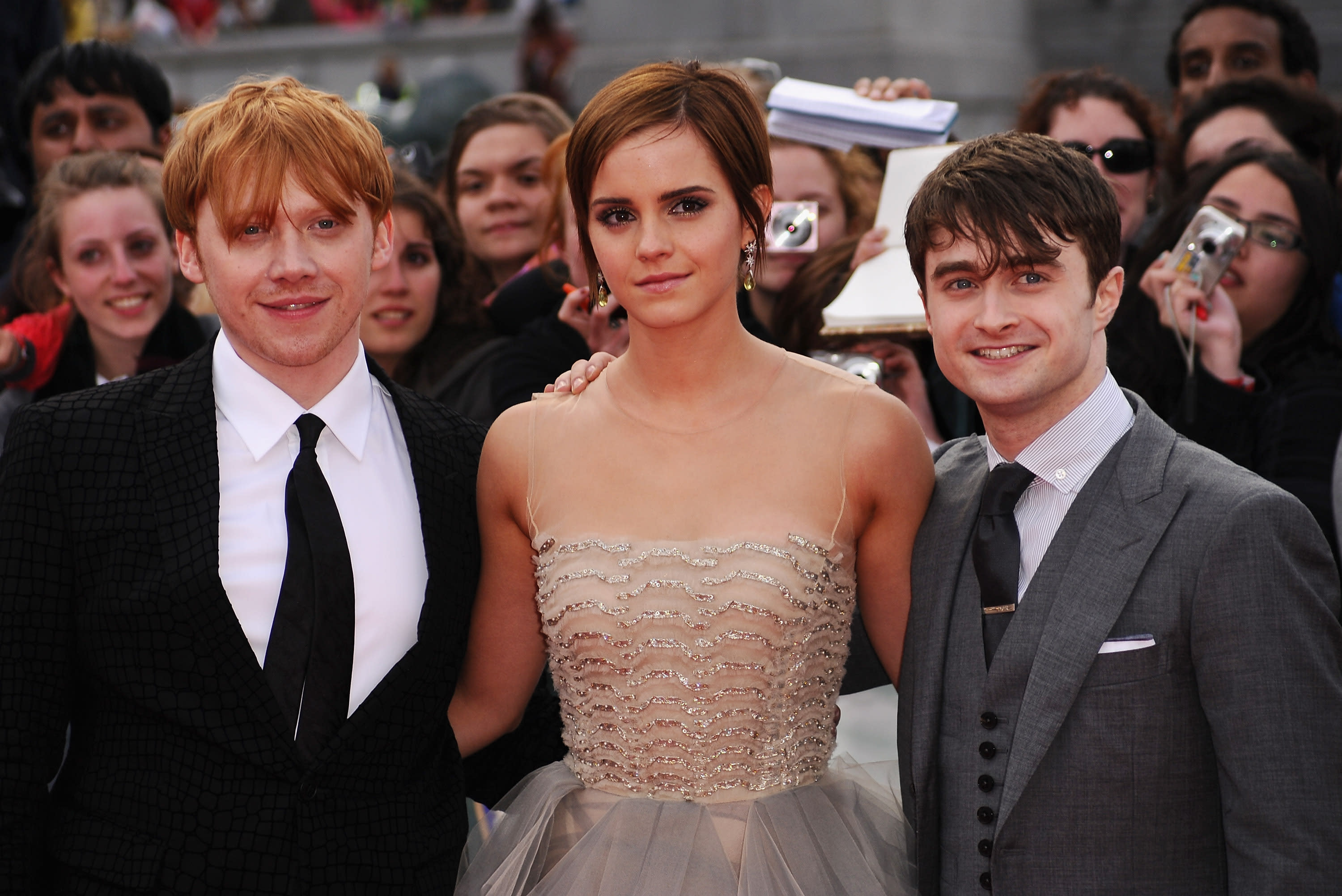 To celebrate 20 years of Harry Potter, the film franchise is putting together a reunion special that will feature Watson, Radcliffe, Grint, and several of their co-stars. In her Instagram post, Watson thanked fans for their love and invited them to join in on the 20th-anniversary excitement.
"Thank you to the fans that have continued to show their support well after the last chapter closed," she wrote. "The magic of the world wouldn't exist without you. Thank you for fighting to make it such an inclusive and loving place."
"Happy 20th Anniversary, Potterheads!" Watson added. "We hope you enjoy the Harry Potter 20th Anniversary: Return to Hogwarts, which will stream New Year's day, Jan. 1 on HBO Max. Lots to look forward to."
The reunion special will take a look back at the films and feature behind-the-scenes footage. "There's magic in the air here with this incredible cast, as they all return home to the original sets of Hogwarts, where they began 20 years ago," executive producer Casey Patterson teased in a statement. "The excitement is palpable as they prepare to take their fans on a very special and personal journey through the making of these incredible films."