Chuck Norris
How Game Of Dᥱαꚍɧ Was Finished Without Bruce Lee
Bruce Lee's Game of Death is considered a kung fu classic, despite the fact that the star only filmed about 40 minutes of footage before his death.
Game of Death is considered a must-watch for Bruce Lee fans, despite the fact that Lee only filmed a portion of the movie. In Game of Death, Lee plays a kung fu expert who has to fight his way through a tower, defeating martial artist after martial artist on his way up. Among his opponents is a character played by NBA star Kareem Abdul- Jabbar. This was also the movie in which Lee wore the iconic yellow jumpsuit.
After making Way of the Dragon, Hong Kong studio Golden Harvest hired Lee to make his fourth movie with them: Game of Death. Similar to his work on Way of the Dragon, Lee was attached to star, direct, and write the film. Filming for the movie began in Hong Kong in 1972, but was interrupted when Lee received an offer from Warner Bros. to make his first (and only) Hollywood movie, Enter the Dragon. Sometime after filming wrapped on Enter the Dragon, Lee returned and shooting resumed for Game of Death. The movie was only partially filmed when Lee died unexpectedly on July 20, 1973 at the age of just 32.
As a result of Lee's death, the project was abandoned and looked destined to become another unmade Bruce Lee film, but a few years later, Golden Harvest made the decision to release the movie anyway. This was of course a huge challenge, considering that Lee only shot approximately 40 minutes of footage. Plus, most of what Lee shot came from the second half of the script. There was hardly enough for a full movie. To tackle this problem, Golden Harvest brought in Enter the Dragon director Robert Clouse to finish the film and released it in 1978. For this to work, most of Lee's story was necessarily scrapped and replaced with an entirely new one.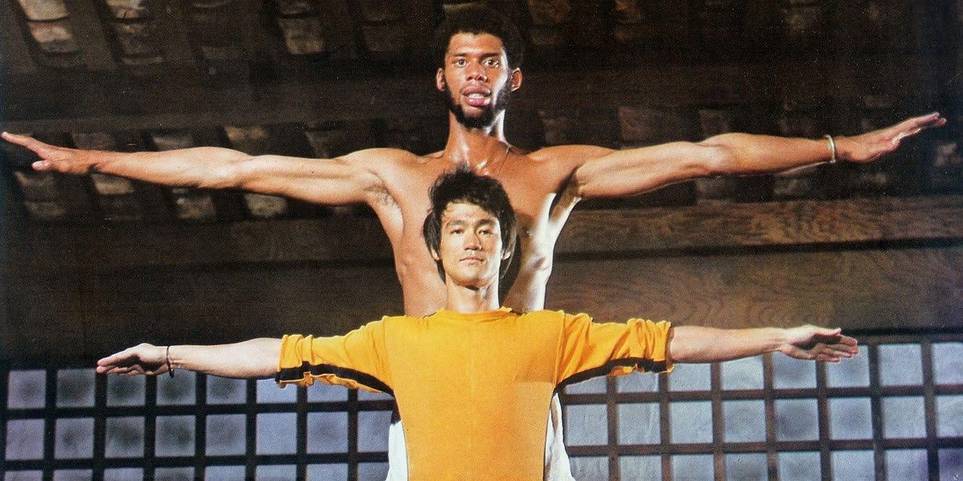 This process was done in a variety of ways. One thing they did was cast actors who could pose as stand-ins for Lee, including Yuen Biao, who went on to be a kung fu star in his own right. The studio went to a lot of trouble to hide that these actors weren't Lee by relying on lighting (or a lack thereof), sunglasses, disguises, shots of the actor from the back, and more. In one scene, the studio went as far as to superimpose an image of Lee's face over the stand-in. Since all these tricks couldn't hide their physical differences, the movie provided an explanation in the story: Lee's character received plastic surgery to avoid recognition.
To offer audiences a bit more of the real Bruce Lee and to help bridge some of the scenes together, Golden Harvest relied on recycled scenes from his previous films, such as The Big Boss, Fist of Fury, and Way of the Dragon. In what became a highly criticized move, Game of Death also incorporated footage from Lee's actual funeral, which is used in a scene where the main character faked his death. Lee's face in the casket could be seen in one of the shots.
All things considered, it's easy to see that Game of Death was littered with problems, but even though it's far from a complete movie, fans have argued that it contains some of Bruce Lee's best work. The fight scenes he did with Kareem Abdul-Jabbar and others were exciting, well-choreographed, and exactly what one would expect from a Bruce Lee movie.