Uncategorized
7 Ridiculously Expensive Things Owned By The 'OG Beauty Influencer' Jeffree Star
Jeffree Star lives a lavish lifestyle and spends his million-dollar fortune on expensive things.
While he's been universally crowned as the king of the beauty influencer community, Jeffree Star's time within the limelight began long ago, during the good old days of MySpace. Die-hard fans of the cosmetic mogul can certainly recall Jeffree's domination of the social platform with his music and makeup looks long before the concept of influencers was even thought of. Seven years later, this YouTube mega celeb is living a beyond more affluent lifestyle as the founder of one of the world's most successful makeup brands.
He began the Jeffree Star Cosmetics empire more than half a decade ago with only $400 to his name and a dream he was willing to work towards. Today, his internationally distributed lines of eye shadows, contours, and lip shades make an estimated $100 million in revenue every year. Nowadays, Star receives endorsement offers worth six figures. Combined with profits from his cosmetics line and some pretty hefty compensation from YouTube for his consistently buzzworthy content, the beauty guru has allocated a net worth of $200 million.
And, if you've ever spent a decent amount of time on Star's channel, you'd learn pretty quickly that he's not shy about flaunting his ultra-lavish lifestyle. From million-dollar estates to a Birkin bag collection that's worth more than most people's mortgages, Star is always sure to let his followers – and haters – know that he's filthy rich. Take a look at all these beyond expensive purchases that Star has made since his rise to fame.
7 The $3.6 Million Starter Home
Just like his uber-famous beauty entertainers, the Kardashian's Star formerly lived in the sunny, paparazzi-filled city of Calabasas. Fans of the beauty guru could instantly recognize the massive 6,785-square foot mansion for its practically all pink interior. It was the main backdrop for a great deal of Starr's makeup tutorials with gained millions of views per week.
Star bought the bubblegum pink abode back in 2016 with her then-boyfriend, Nathan Schwandt, for $3.6 million. While that's certainly a huge amount for an average person, Starr considered it his starter home. The mansion came equipped with six bedrooms, seven bathrooms, and a spacious garage for his stunning collection of luxury cars (more on that later.)
Hot pink velvet drapes adorned the walls of the Mediterranean-style mansion with gothic chandeliers hanging from the ceiling. The bathroom to the house's main suite has a Jacuzzi soaking tub. And how could you forget the all-pink walk-in closet that held Jeffree's dazzling collection of designer apparel? The clothes in Jeffree's closet alone are valued at an estimated $7 million!
6 Birkin Bag Wall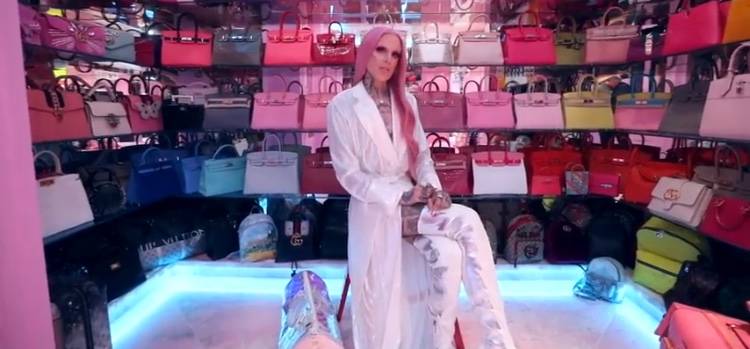 Speaking of apparel, If you take a look inside the beauty guru's closet, you'd likely get the impression that he's a huge fan of Hermes. If the collection of $3,500 Hermes wallets in every color doesn't give it away, his extensive Hermes Birkin wall displaying over 100 bags certainly will.
Jeffree's got a Birkins collection that could rival the most affluent of socialite fashionistas. He's got the 2012 Diamond Birkin that cost him around $200 million; he auctioned it off for $150 million. Back in 2019, he made news when he temporarily lost his rare $60,000 ultraviolet Birkin in an airport.
5 $379,200 Hermes Birkin
During a closet tour on his channel, Jeffree showed off the piece of resistance in his massive collection – his Niloticus Crocodile Himalaya Birkins. These are said to be some of the most expensive bags in fashion, with one in his possession worth about $379,200!
"I have one of the biggest collections in the world," the YouTube celeb tells in his tour video, "I was always told 'Jeffree, you'll never have a Birkin, you'll never be successful' and for some reason certain things stick with you."
4 Rolls Royce Fleet
Earlier this year, Jeffree shared a rather sad moment with his social media following. His 13 million Instagram followers were shocked to see the star's post about wrecking one of his Rolls Royces.
Luckily, he made it out of the accident and quickly recovered. While one of his precious vehicles was damaged, all was not lost. The content creator owns an impressive fleet of fourteen others – worth up to $500,000 combined.
3 Private Jet
As one of the social media's most successful influencers, Star's always traveling around the globe to attend glamorous events and perform other professional engagements. So it's only right that he fetched into his massive fortune to charter private jets.
His followers on Instagram know that Star's never shies away from the chance to flaunt his jet-setting mode of transportation. Star features her jet in her YouTube docuseries Get Ready In My Private Jet.
Chartering a private jet can cost anywhere from $1,300 to $8,000 per hour, depending on the size and model.
2 $14.6 Million Hidden Hills Dream Hous
Eventually, Star decided that it was time for him to ditch his starter house in Calabasas and work towards buying her dream home. His real estate made an enormous upgrade in 2019 when he and his boyfriend purchased $14.6 million houses in one of California's most exclusive mega compounds.
There are tons of A-list stars that call the Hidden Hills home. Its huge guard gates protect the fabulously lush abodes of Kris Jenner, John Stamos, Drake – and for a year and a half, Jeffree Star.
The businessman of all things cosmetics lived in this 25,000 square feet, French Normandy-style mansion for approximately 1.5 years. The place comes with eight bedrooms, thirteen bathrooms, and a heaping of garage space for Star's impressive car collection.
Star could keep up his physique in the stunning two-story gym and man the logistics of his multi-million-dollar business in the home's wood-paneled office. There's a basement bar, a home theatre, and all the other dazzling amenities that come with living the fast life.
Though it was his dream house, Star didn't stay in the Hidden Hills mansion for long. Last June, Star shared the news that he was in the process of moving with his millions of subscribers. Putting the home up on the market, Star planned to move to Wyoming. She put the home back on the market for $20 million.
"I'm selling my giant house in LA, I've donated and sold all my clothes," the star wrote in the caption of a YouTube video regarding the move, "and I'm starting the next chapter of my life."
1 Wyoming Ranch – $1.1 Million
Earlier this year, Star became an official resident of Casper, Wyoming. Luckily he didn't run into the trouble of scrambling for a new living situation after selling his Hidden Hills pad. He had the luxury of escaping into the scenery of the state's wilderness in his million-dollar ranch.
Stationed at the base of Casper Mountain, the 6,000 square foot property was sold to Star for an estimated $1.1 million back in December of last year. Along with its six bedrooms, the main house features a chef's kitchen with state-of-the-art appliances from such companies as SubZero and Wolf. Star's massive family room and comforting dens are the perfect spots for the influencer to escape from his never-ending YouTube controversies.
When he's not making content or manning his business, Star spends his time tending to his yak herd. That's right. He takes to Instagram often to show off his loving yaks and frequents farmer's markets where yak products are sold.
Star joins a long line of mega affluent celebs that call Wyoming home. RuPaul, Kanye West, and Blake Shelton all own breathtaking ranches within our country's Equality State. It's clear from social media that Star is enjoying his time away from the bright lights of Los Angeles.
"So far, I have accumulated 500 acres of peace and quiet and I am working on some more," Star says on his channel, "but we have a beautiful home here and I am going to build a future here."