Peaky Blinders
'Peaky Blinders' Season 6: New Teaser Shows Alfie Solomons and Thomas Shelby in Conflict
Peaky Blinders Season 6 is coming soon, and fans can't wait to see what happens next with Thomas Shelby and the Shelby family. In season 5, fans saw someone betray Tommy and throw off his plan to assassinate Oswald Mosley. And fans also got another surprise: Alfie Solomons is alive. Recently, a new teaser trailer for season 6 shows Tommy and Alfie seemingly in conflict.
Is Alfie Solomons based on a real person? He's a 'Peaky Blinders' favorite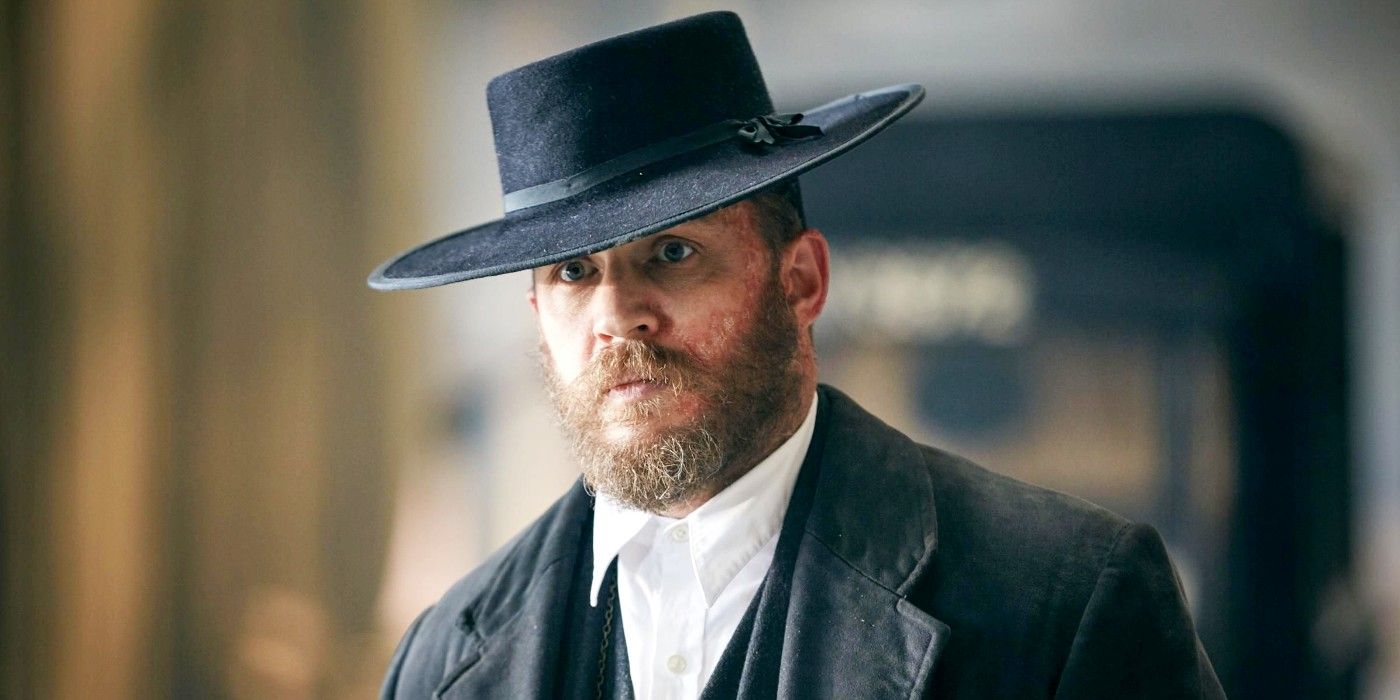 Fans were shocked when it was revealed that Alfie Solomons was still alive following Thomas Shelby shooting him in the face. Alfie, played by Tom Hardy, has become a fan-favorite character through past seasons of Peaky Blinders — and fans fully anticipate he'll also make appearances in Peaky Blinders Season 6.
The Peaky Blinders are based on real-life gangsters, but what about Hardy's character? Is Alfie Solomons based on a real person, too? According to Express.co.uk, he's based on a real person of almost the same name — Alfie Solomon. The publication notes the Jewish Chronicle states the real-life Alfie and his brother, Harry Solomon, teamed up with Darby Sabini's Italian gang to control horse races.
"People would flood to the race tracks," show creator Steven Knight explained. "They would be carrying a lot of cash and might be a bit drunk so they would be easy prey for straightforward robbery. A lot of the bookies were Jewish and, as they became the target for people stealing money from them, they got themselves protection from the Jewish gangsters. One gang would be protecting while another would be attacking."
A new teaser for the next season shows a scene between Alfie Solomons and Thomas Shelby
While fans figured Alfie Solomons died prior to season 5, they were proven wrong. Alfie lives in Margate Beach, as witnessed by Thomas Shelby at the end of season 5. This also foreshadows Alfie's inevitable appearance in Peaky Blinders Season 6.
"Alfie, I think I may have written your final act," Tommy says menacingly while Alfie stares on.
So, what does it mean? Given their relationship in the past, it seems Alfie and Tommy may be in serious conflict in season 6 — or, one of them may betray the other while under the guise of a truce. On the other hand, Alfie and Tommy could put aside their differences to take out Mosley once and for all.
When is 'Peaky Blinders' Season 6 coming out?
When is Peaky Blinders Season 6 coming out? According to the new teaser with Alfie Solomons and Thomas Shelby, the season will arrive in "early 2022." As of now, the creators haven't given an exact release date yet. But they continue to leave clues on social media about the future release.
 On Nov. 20, 2021, Peaky Blinders' official Twitter account posted a new clip, and they captioned the clip, "#PeakyBlinders series 6. Early 2022
When will the season hit Netflix? Season 6 will air on the BBC Network first, but fans can surely expect to be able to stream the new season on Netflix a few months later. The prior five seasons are currently available to stream on Netflix as well.