Uncategorized
The Surprising Game Of Thrones Scenes Kit Harington Called Horrific
Over the course of its eight-season run on HBO, few shows were more loved, loathed, or talked about than "Game of Thrones." While pretty much everyone agrees that the final few seasons of the show were, shall we say, problematic, it's still impossible to deny just how much "Game of Thrones" was able to accomplish during its time on the air.
The same goes for the series' central cast who, by some accounts, put themselves through the wringer in every possible way in order to bring both their unforgettable characters and the show's massive storylines to life. One of those accounts came from Kit Harington himself, who portrayed the (mostly) honorable Jon Snow for all eight seasons of "Game of Thrones."
If you're a fan of the series, you know his character endured almost as many hardships as anyone on the show, and even died at one point. But of all the emotionally wrenching and physically demanding things Harington went through on "Game of Thrones," fans may be surprised to learn that the scenes he disliked the most involved the show's fearsome digital dragons.
Kit Harington did not like riding dragons on Game of Thrones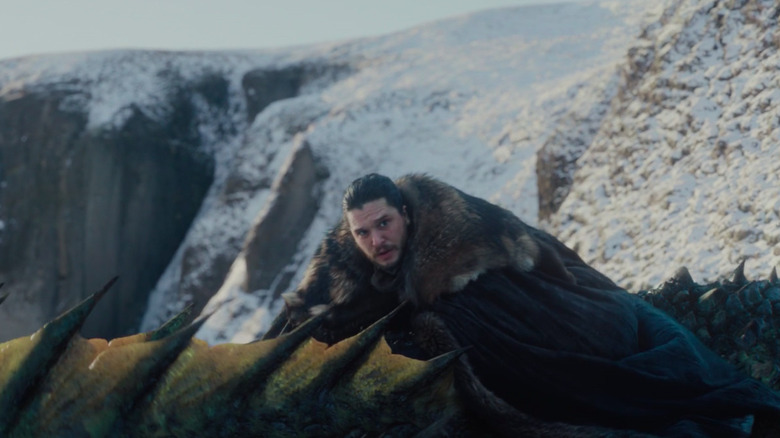 The dragons on "Game of Thrones" were, of course, brought to spectacular life through some stunning CGI work by the series' Emmy-winning special effects team. Jon and Daenerys (Emilia Clarke) rode those dragons in the show's later seasons, and as a result, both Harington and Clarke dedicated a lot of time to sitting on mechanical bull-esque contraptions called "bucks" while shooting their dragon scenes. According to Harington, the experience left a lot to be desired.
The actor spoke frankly about how much he disliked shooting the dragon-riding scenes in a 2019 interview with The Hollywood Reporter, stating, "Emilia had been moaning about it for seasons, and I was like, 'Yeah, yeah, yeah. Whatever. You have not been through the mud in Northern Ireland. A buck in a nice warm room? Boo hoo.' But she was absolutely right. It was horrific." Harington went on to say that it's all but impossible to even act while riding a buck, noting, "It's not acting at all. It is not acting, it never will be acting, and it is not what I'd signed up for."
In spite of the miserable experience, Harington told THR he was just as impressed with the end result as anyone, saying, "It looked great, right? It just felt horrible!" Fortunately, Harington did develop a bit of a sense of humor about it, claiming in jest that the scenes were "very uncomfortable as a man" and jokingly saying, "I don't think I can have children now."