Twilight
Robert Pattinson and Kristen Stewart's 'Twilight' Sᥱ𝑥 Scene Was Originally Too Steamy for PG-13 Rating
Robert Pattinson and Kristen Stewart's sex scene in Twilight was originally too steamy for a PG-13 rating. During their promotional tour for Breaking Dawn – Part 1, the on-screen lovers revealed that their sex scene had to be reshot because it showed a little too much skin for the studio. So how did Pattinson and Stewart really feel about getting intimate in front of the cameras?
Robert Pattinson and Kristen Stewart talk about their 'Twilight' sex scene
During an appearance on the Ellen DeGeneres Show in 2011, Pattinson and Stewart were asked about why they were forced to reshoot their sex scene.
The actors hilariously revealed that one of them had shown a little too much "butt crack" in the scene. Pattinson then joked about how the director just edited the crack out, because that was the part that pushed the movie over the PG-13 rating.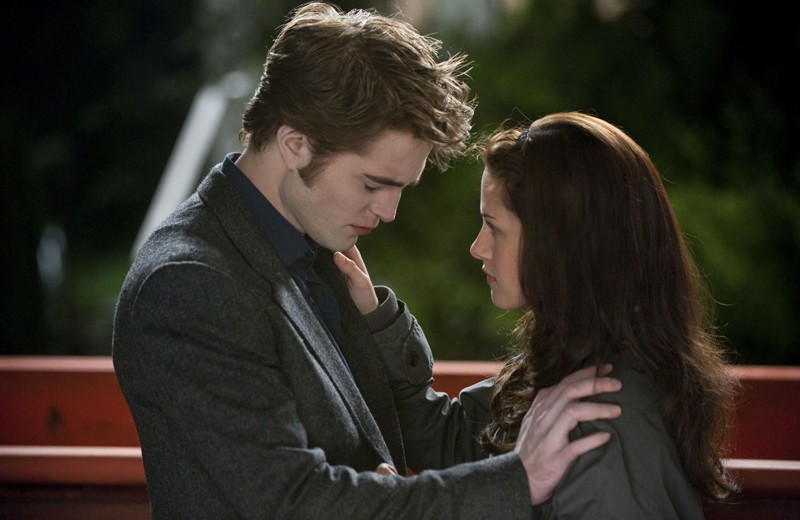 At the time of the interview, which fans can watch on YouTube, Robert Pattinson and Kristen Stewart were dating in real life. The pair had sparked a romance while working on The Twilight Saga, much to the joy of their fans around the world.
Sadly, their romance fell apart roughly a year after the interview when Stewart was caught kissing her Snow White and the Huntsman director Rupert Sanders. Pattinson and Stewart briefly reconciled after the incident but ultimately parted ways in 2013.
Stewart opens up about nudity in film
In the spring of 2015, Stewart was asked once again about her famous sex scene with Pattinson in The Twilight Saga. Looking back, Stewart revealed that she and Pattinson were set up to fail at the very beginning, mainly because there was no way they could ever live up to expectations.
"On Twilight we had to do the most epic sex scene of all time," Stewart shared. "It had to be transcendent and otherworldly, inhuman, better sex than you can possibly ever imagine."
Stewart went on to say that the scene was pure "agony" to perform in front of the cameras. She also admitted that she wanted to impress fans and create an amazing scene, which only made things worse.
Stewart was quick to add that she has zero problems with doing sex scenes in movies. She only dislikes them when they are contrived in the story and do not seem natural. At that point, things get really uncomfortable for the actress, which is completely understandable.
The Twilight star went on to discuss nudity in Hollywood and suggested that it is not that big of a deal to get naked for a film.
Robert Pattinson dishes on awkward 'Twilight' sex scenes
Pattinson and Stewart, of course, had multiple sex scenes throughout the five movies of the Twilight franchise. During the promotional tour for the final film in The Twilight Saga, Breaking Dawn – Part 2, Pattinson once again opened up about getting intimate with Stewart.
"It also can't just be a normal sex scene," he stated. "It's supposed to be about, like, the greatest vampire sex you've ever had. So a lot of it was just close-ups on me and Kristen's faces, but there was no one else there."
The actor explained how it was difficult making a PG-13 sex scene, especially when the sex is supposed to be out of this world. Although they did their best to spice things up, the camera ended up focusing on Robert Pattinson and Kristen Stewart's faces more than anything else.
Despite the obstacles, you have to give Pattinson credit for giving it his best. While Pattinson tried hard to look like he was in pure ecstasy, he revealed that even the camera guys couldn't help but laugh at the setup.
Stewart, unfortunately, was not around for the interview, but we are confident that she felt the exact same way. At the time, Stewart and Pattinson had split up their promotional tour and were doing interviews in different parts of the world.
Where do things stand between Pattinson and Stewart?
Luckily for Pattinson and Stewart, they probably won't have to do any more sex scenes together now that the Twilight franchise is over. There has been some talk about a Twilight spin-off, but Pattinson and Stewart are not expected to reprise their roles.
Although their romance ended amid a cheating scandal, Pattinson and Stewart are on much better terms these days. In fact, Stewart recently said she was excited that Pattinson landed the lead role in Matt Reeves' upcoming film, The Batman, and could not wait to see him as Bruce Wayne.
No word yet on if Robert Pattinson will be forced to do any sex scenes for that one