Seinfeld
'Seinfeld': Jerry Seinfeld Polled Fans To Figure Out How To Deal With Jerry and Elaine's Relationship
For nine seasons, fans watched Jerry Seinfeld, Elaine Benes, Cosmo Kramer, and George Costanza navigate life in Manhattan. Part of a slate of blockbuster hits, Seinfeld deviated from other sitcoms of the time by not having a central romance propelling the story forward. Still, fans wondered if Jerry and Elaine would ever get together. Believe it or not, there was only one thing that kept them apart; the fans.  
The length of Jerry and Elaine's relationship has raised questions
During the 9-season run of Seinfeld, Jerry and Elaine's relationship came up often, but the length of that relationship is shrouded in mystery. By the time fans met the pair, they had already broken up. While they referenced the relationship regularly, they never stated exactly how long it lasted. Still, it's largely assumed that Jerry and Elaine had an on-again-off-again relationship for about three years before the show started.
In the season 6 episode, "The Doodle," Elaine mentions that she started dating Jerry the year she arrived in New York. Elaine had previously said she moved to New York in 1986. When fans met Jerry and his pals, he and Elaine had only recently split, meaning their relationship lasted roughly three years. Still, it's stated, at one point, that the pair had sex 37 times, which would only calculate to about once per month if they dated for three years. That number seems pretty low, claim fans.
Jerry and Elaine almost rekindled things on Seinfeld
Jerry and Elaine were nothing but friends when the series started, but the sexual tension was obvious from the beginning. In fact, the former flames almost rekindled their relationship early on in the show's run. In the season 2 episode, "The Deal," Jerry and Elaine agree to sleep together when they discover they were both experiencing a dry spell.
"The Deal" was the season finale. By the time fans caught back up with Elaine and Jerry, their relationship had reverted back to a friendship, even though the episode ended with Jerry telling Cosmo Kramer that he and Elaine were dating again. The fact that the arrangement was never discussed again has bothered some fans for years. There is a reason they didn't pick the storyline up in season 3, though.
Jerry and Elaine didn't end up together because fans didn't want them to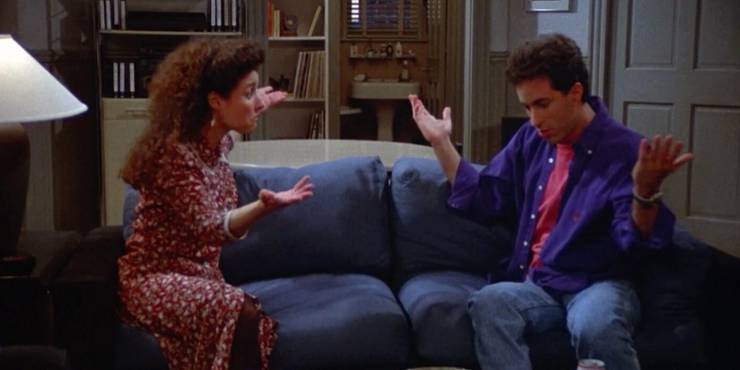 As the show was winding down, some viewers assumed Jerry and Elaine would end up together. That didn't happen. They walked away from the series as just friends. That didn't sit right with some fans, but most people who watched the show were perfectly OK with it. Seinfeld himself was pretty happy with the decision because, in the end, it seemed like the right way to honor the fans.
According to Indie Wire, Seinfeld actually polled people who attended one of his standup tours about Jerry and Elaine's relationship. He asked his audience if they wanted to see Jerry and Elaine make their relationship work, and, reportedly, the answer was a resounding no. After he returned from his standup tour, he told the team that Jerry and Elaine needed to remain just friends. That's the real reason their friends-with-benefits storyline disappeared and why they never tried to get back together.