Uncategorized
Emilia Clarke Spoiled Game Of Thrones' Ending For This One Person
The term "spoiler warning" has come to overtake much discourse surrounding media. No one wants to know how a massive property will end or whether there are massive twists to be found. Audiences want to be able to engage with a work of art unperturbed upon the first watch so that they can make up their own minds about whether a particular finale was satisfying or not. It's why so many articles these days need to plaster "Spoiler Warning" at the beginning of an article, even if the piece barely mentions an ending just to be on the safe side.
And few projects had their secrets as closely guarded as the final season of "Game of Thrones." Fans were on the edges of their seats waiting to see what would transpire among Sansa Stark (Sophie Turner), Jon Snow (Kit Harrington), and the rest of the characters people had spent years following and cheering for. No doubt these actors had to sign lengthy NDAs to ensure no one blabbed about how it would all end. However, that didn't stop one person, namely Emilia Clarke, from telling one specific person how things would go down in Winterfell.
Emilia Clarke told her mother about the Game of Thrones ending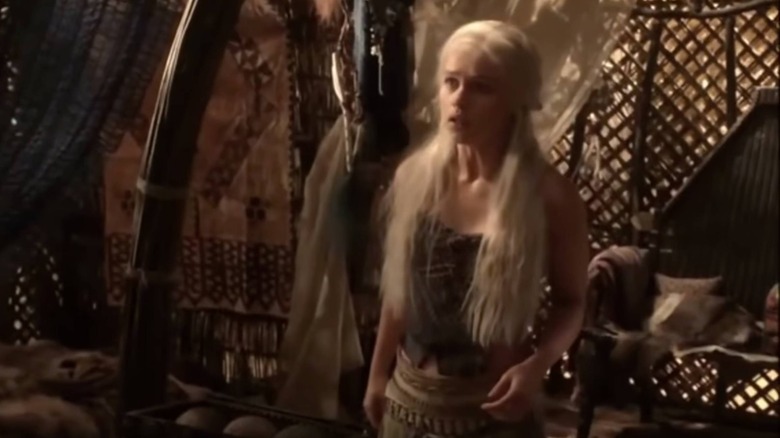 It's not easy to keep such a massive secret. It only makes sense that Clarke would feel the urge to tell at least one person so that she could alleviate her conscience somewhat. And that's precisely what she did, as she revealed in an interview on "The Late Show With Stephen Colbert" prior to the "Game of Thrones" finale. Colbert asked her if there's anyone she told about the ending, and she actually revealed, "I've got to be honest. I did … I told, I wasn't supposed to — sorry lads — I told my mom."
It's a huge secret to trust with one's mother, and she might have gotten in a bit of trouble if she was a gossip at all. But as it turns out, her mother was the perfect person to tell about the finale because she forgot what was supposed to happen almost immediately. She went on to say, "She's a vault because she's just done forgotten it." She went on to relate a story of how at a later date she tried to remind her mom about what happened, and she had no idea what she was talking about. 
Everyone needs someone to tell spoilers to. Emilia Clarke had her mother. Marisa Tomei told her therapist about the ending of "Spider-Man: No Way Home" (via ComicBook.com). It's vital to have a support network no matter who you are.