Letterkenny
What is a Super Soft Birthday Party? How do you throw one?
A super soft birthday party is exactly what you'd expect, a party that is perfect for your good buddy who wears sunscreen for the scent because cologne is too expensive.
Traditions are traditions for a reason. Usually they are pretty awesome, that's why we keep them up. If it's not already, throwing your good buddy a Super Soft Birthday Party should be a most prized annual tradition, next to dressing up for Halloween. Here's how to do it so that you're worthy of the Letterkenny produce stand crew.
10 Things You Need to Throw a Super Soft Birthday Party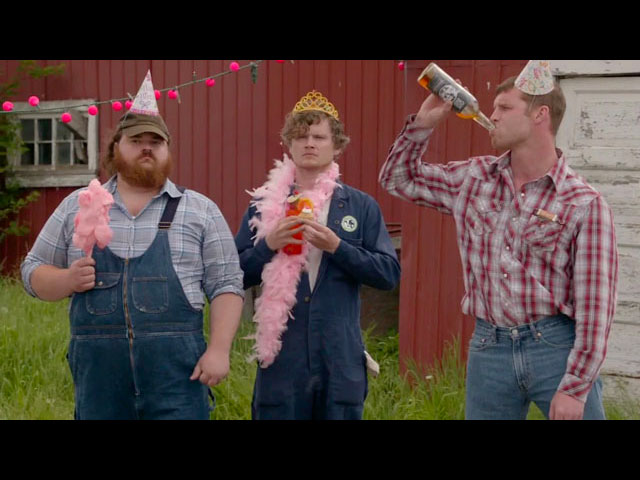 Super Soft Drinks. You don't throw a Super Soft Party with Gin & Tonics. No. You need some really silly drinks, the kind with umbrellas in them. The kind that may (or may not) be garnished with pineapples and cherries. These include: Corrabelo Love Potion, Purple Passion Punch, Lemon Gingerini, Apricot Toblerone Cocktail, Flirtini, and Sparkling Mango Sorbet Float. If you can figure out how to make half of those, let us know.
Karaoke Machine. Strictly for Boy Band Karaoke. All you O-Town, Backstreet Boys, and 98 Degrees lovers, you'll be singing Dirty Pop all through the night.
Cupcake Decorating Station. Think tons of frosting. It's easier to use piping than it is to spread frosting on with a knife or spatula. A variety of toppings will help. Rainbow sprinkles are a must.
Food and Drink. Charcuterie comes to mind. Same with All-Dressed Chips. Maybe some cotton candy. And, a keg. Yes, definitely a keg.
Horse. For the Unicorn rides, clearly.
Two Hockey Players. A super soft birthday party wouldn't be complete without a couple of Bill & Ted-esque hockey players who spend the majority of their lives checking themselves out in the mirror, cruising for chicks in their jeep, and running suis in parking lots. Everyone has a few friends like this. They're not too hard to find.
Decorations. Super Soft Birthday Balloons, streamers, signage, inflatable palm trees, a Power Wheels Jeep, a bounce house. plastic martini glasses. butterfly themed noise makers, and crazy straws.
Appropriate Attire. This includes overalls, plaid shirts, feather boas, conical party hats, and a crown for the birthday guest of honor.
A Laneway. This is where the pre-party fight will take place. Remember, no degens on the property.
A killer right hook. Listen, Big Shoots, if some local street toughs come looking for a shot at the title, you're gonna give it to them, square in the jaw. After you do, it's only polite to invite the losing gang to the party and refresh them with a beverage, preferably a Puppers Beer. A Night Shift How 'R Ya Now is a close second.
About the Letterkenny Episode: Daryl's Super Soft Birthday Party
Daryl's Super Soft Birthday Party is the second overall episode of the show. That's where we learned of the tradition. The episode is hilarious. It dives further into the characters and the various scenarios they find themselves in. Main characters Wayne and Katie band together to give their friend Daryl the very best birthday party they can. Shenanigans and hijinks ensue, and by the end of the episode, everyone is having a grand ol' time at Wayne and Katie's house. You should really watch the episode for yourself.
Also, if you're looking for awesome beer gifts, score some Letterkenny Koozies. Now, go get a pint of green beer and watch/celebrate St. Perfect's Day!