Uncategorized
Dakota Johnson On The Embarrassing Teenage Outfit That Makes Her Cringe
The Lost Daughter star plays a game of 'It's A Mood' with ELLE UK and discusses her most embarrassing throwback looks, Met Gala dresses and her mother Melanie Griffith's style.
Gucci ambassador Dakota Johnson might have a wardrobe bursting at the hinges with designer clothes, but she'll be the first one to admit that it hasn't always been this way.
Amid awards rumours for her latest film, The Lost Daughter, the ELLE UK cover star sat down with us to play a game of 'It's A Mood' and opened up about her most memorable Met Gala moments, Oscars gowns and fashion fails, including one throwback look in particular.
'This is so embarrassing! Oh my God' Johnson cringed as we showed her a photograph of herself and her sister at the 2003 NYC premiere of Disney's The Cheetah Girls. 'Why haven't I see these [photos]?
'I think I was 12. And I'm wearing a mesh tank top. Is that a beret? What's happening? Am I wearing a beret with a mesh tan top? Are they like suit pants, pinstripe suit pants? Fashion icon!'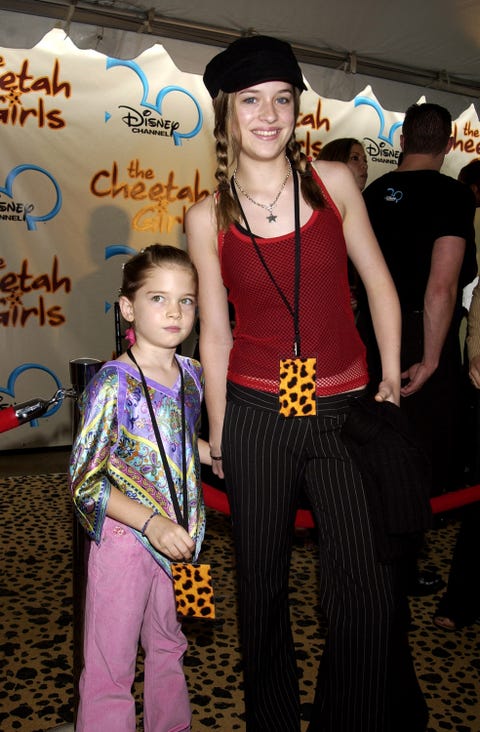 In the photo a young Johnson is wearing a black beret, a red mesh top layered over a black vest top, black pinstripe trousers and a leopard-print lanyard. Meanwhile, her sibling wears a pair of candyfloss pink trousers and a top with multicoloured sleeves.
The 32-year-old continued to explain that when she was a child she was obsessed with a pair of black patent leather Mary Jane shoes.
As for the 'chicest outfit' she's ever worn, the actor – who is dating Coldplay frontman Chris Martin – recalled a grey and black checked suit, styled with a black headband and black bag, that she wore to the Sphere premiere in Los Angeles in 1998. 'What is in there? What does a nine-year-old need in a purse?' she joked.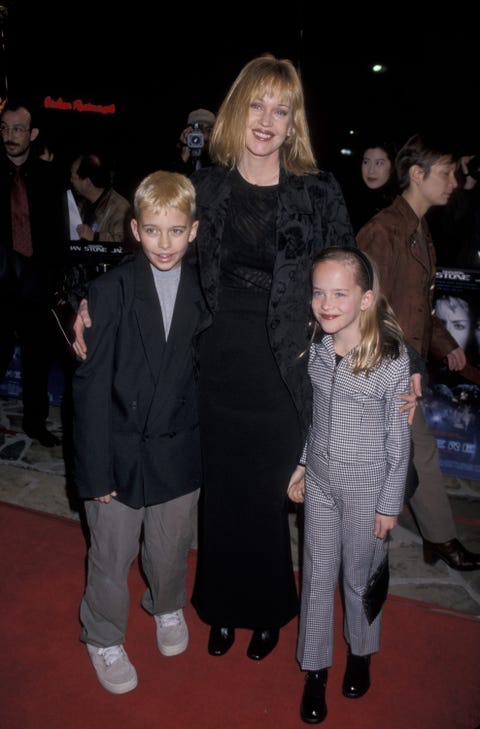 RON GALELLA, LTD.GETTY IMAGES
'When I was in high school, Kate Moss was the coolest woman – her style,' she continued. 'When I was a teenager, I had a boyfriend for a long time and we would share clothes. That was no one's style. It was a little confused.'
Later in the interview the Texas-born star, who has worked with celebrity stylist Kate Young for several years, revealed the important part she played when it came to creating the fuchsia Gucci gown with an embroidered bleeding heart, and teamed with a silver headpiece, that she worn to the Met Gala in 2019.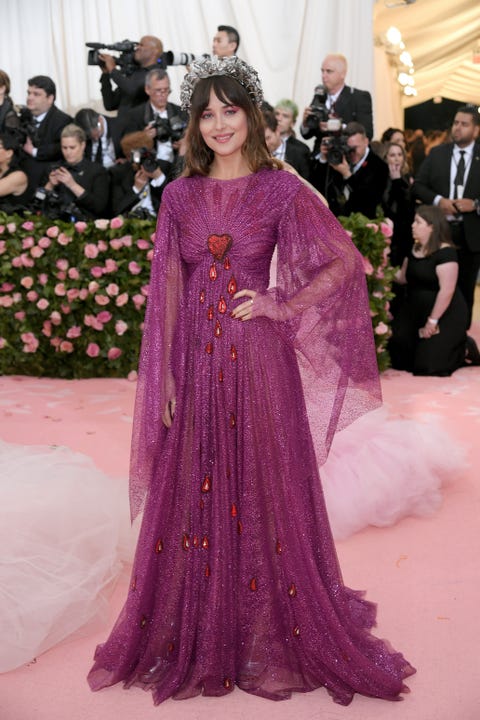 NEILSON BARNARDGETTY IMAGESADVERTISEMENT – CONTINUE READING BELOW
'I remember that the bleeding heart had just a couple of droplets of blood and I asked if they could make the blood go all the way down the dress and into the train,' she explained.
As for how she and her mother, actor Melanie Griffith, differ when it comes to fashion, the actor said: 'My mum and I have different style. She is really good at cleaning out her closet… and I am not. I'm the person who saves a lot of my clothes, I even save a lot of her clothes, and pieces – like dresses and jackets – that are special.'
From feeling 'exhausted' while wearing a Gucci chainmail dress to the 2021 Venice ('it weighed 27 pounds'), to opening up about her love of tattoos, we can't wait to see what Johnson will wear to 2021's award season. We have a funny feeling she won't be wearing a beret…
Watch Dakota Johnson play It's A Mood in the video at the top of this article.
Dakota Johnson's Style File – Every One Of Her Red Carpet Outfits