Twilight
Jacob from 'Twilight' Had $7.5M Film Offer in His Teens Then Hid from Fame Years Later with Nurse Wife
Taylor Lautner from "Twilight" became a sensation when he starred as the hunk werewolf Jacob Black.
However, fame and success dwindled when he couldn't land a major acting role after the "Twilight" saga ended.
Today, Lautner is back acting. His love life also thrives as he is married, and his wife is his biggest fan.
The "Twilight" star Taylor Daniel Lautner developed a passion for acting at the age of seven. He was a sensation among teenage fans who adored his role as Jacob in the "Twilight" series of romance fantasy films.
When he was seven, he auditioned for a small appearance in a Burger King commercial but didn't land the spot. However, Lautner loved the experience that he told his parents he wanted to pursue a career in acting.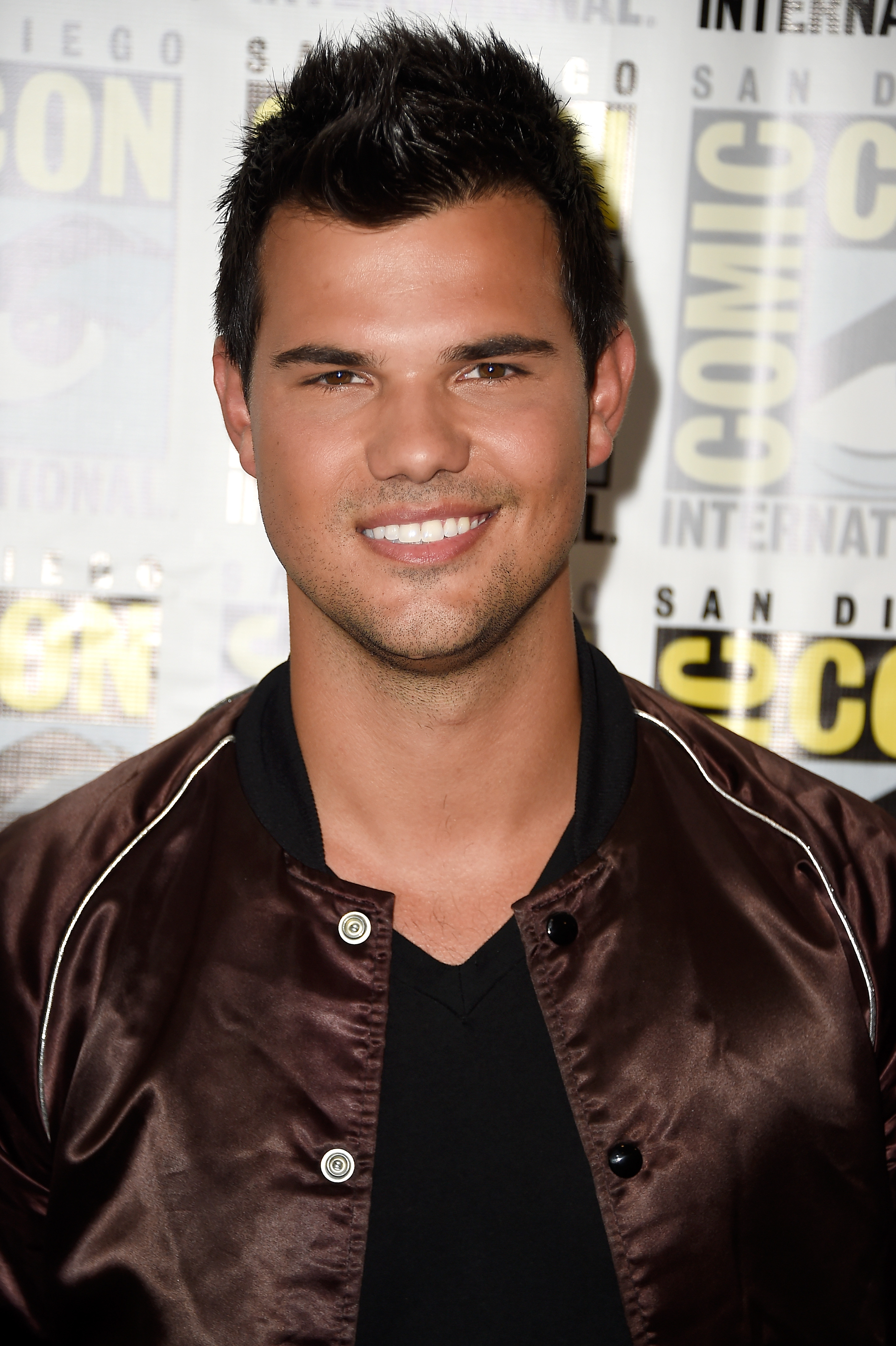 Taylor Lautner in San Diego, California on July 22, 2016 | Source: Getty Images
The actor auditioned for several acting roles since then, and when he and his family moved to Los Angeles, he began landing small parts, including a recurring role in "My Wife and Kids." He also starred in the successful film, "Cheaper by the Dozen 2."
In 2008, Lautner auditioned for the role of the handsome werewolf Jacob Black in the blockbuster hit "Twilight" and landed it. The film gained sudden and unexpected success, which propelled Lautner into a world of success and fame.
Lautner went on to appear in the sequel of the film, and he became more famous. One time, the actor and his "Twilight" co-star Kristen Stewart were trapped in a hotel suite when hundreds of teenagers outwitted security and pursued them. Lautner and Stewart found themselves in lockdown in a little room, waiting for a SWAT team to rescue them.
Lautner's fame hounded him even when just out for lunch. He recalled signing dozens of autographs and posing for everyone's pictures instead.
Due to his fame and success, many thought Lautner would have a great acting career after "The Twilight Saga" ended. In fact, he even reportedly signed a $7.5 million film deal, which he later dropped out of. However, the actor's career failed to sustain his success, and he somehow disappeared from the screens.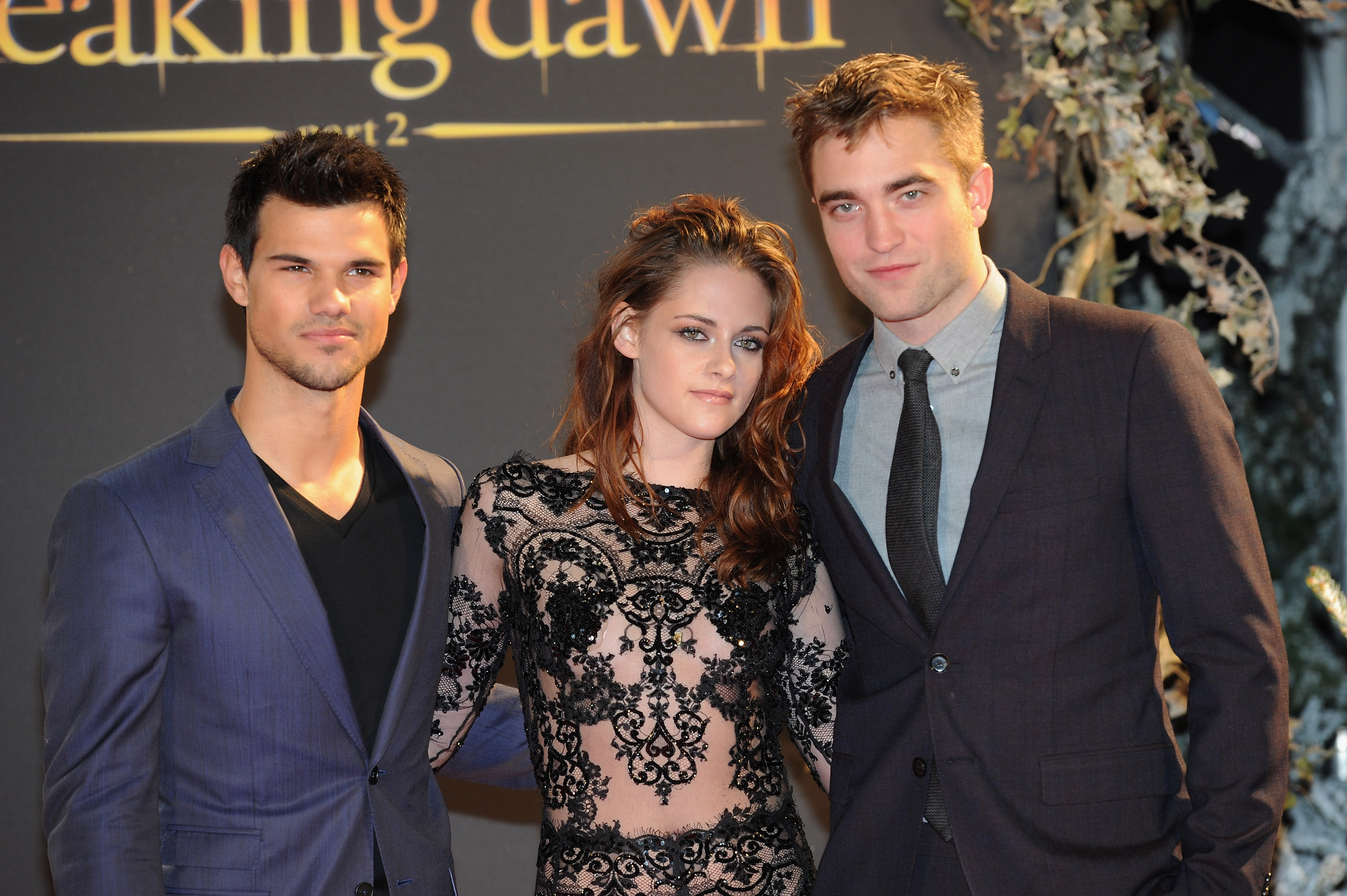 Taylor Lautner, Kristen Stewart, and Robert Pattinson in London, England on November 14, 2012 | Source: Getty Images
Why Did Hollywood Dump Lautner?
Lautner appeared in a few more films after completing the "Twilight" series, but the offers soon dried up as many producers couldn't see the actor becoming more than just Jacob, the handsome werewolf.
Dome and Lautner were introduced to each other in 2018, and in November 2022, they tied the knot.
Lautner featured in "Tracers," which was termed as a standard action-flick flare. Critics argued that the actor didn't do well in the film because all he was good for was looking handsome, removing his shirt, and showing off his abs.
Critics added that Lautner had to have more to him than his appeal if he wanted to survive in Hollywood. Directors also didn't help because they mostly focused on his appearance rather than his talents.
The actor secured some other roles after "Tracers," but he wasn't able to secure an appearance in a major film. He became frustrated by directors who were after his physique rather than his acting abilities.
Other films Lautner appeared in were "Run the Tide" and "The Ridiculous Six." However, leading-man offers never came his way. One agent said it wouldn't be easy for Lautner to move away from the shadow of a hit film such as "Twilight."
A producer pointed out that the movies Lautner appeared in weren't good, which made it hard for people to hire him with the amount he was asking for at the time. When Lautner starred in "Abduction," chief film critic Todd McCarthy said the actor did well, but the film let him down.
Being in the dark shadows of Hollywood affected Lautner. He admitted that when the fame was taken away, he started to question himself a lot. He wondered if people just didn't care about him anymore.
After a while, Lautner decided to take time away from Hollywood, and he noted that it felt like his freedom had been given back to him. He could now go to the grocery store without too many encounters with fans. "I, Taylor, feel so much better today than I have in the last four or five years," the actor affirmed.
Today, Lautner is happily in love with his wife, Taylor Dome. She is a registered nurse who is friends with Lautner's little sister, Makena Moore. Moore introduced Lautner to Dome. She called Lautner and told him she had found his future wife and that he should meet her.
Moore asked Lautner to hold a game night and invite her so that she could bring Dome over. The actor's sister came with some friends and Dome. Lautner recalled that he and Dome hit it off and "the rest is history," he said.
Dome and Lautner were introduced to each other in 2018, and by November 2022, they tied the knot. When Lautner met Dome, he was on a hiatus from acting. In 2022, he returned to acting via the Netflix film, "Home Team," his first in five years.
The actor's wife was so excited when Lautner landed this role that she said she was proud of Lautner for getting back there and doing what he loves. "Proud of the amazing man you have become. I'm your biggest fan," she wrote.
Dome also confessed that she used to be a fan of Lautner when he starred in "Twilight." However, she said she was for Team Edward and not Team Jacob.
Lautner's wife also said Edward was her crush, but she was happy she ended up with Jacob in real life. After the two wed, Dome changed her last name to Lautner, and now the two share their first and last names.
Ever since they got married, Lautner and Dome have enjoyed each other's company and shared adorable pictures of them. For their honeymoon, the two went to Mexico and were spotted enjoying the country's beaches.
To signify their love for one another, Lautner and Dome got matching tattoos that read "11.11.22," their wedding date. On February 1, 2023, the couple started working together when they debuted their podcast "The Squeeze," which discusses mental health and well-being.
Lautner and Dome never cease to express their love for one another on social media. A few days ago, Dome shared pictures of the couple from their wedding day as she celebrated nine months of marriage with the actor.